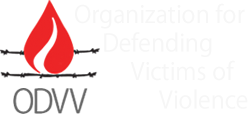 ODVV's active presence at 34th session of the Human Rights Council
News ID : #1248
Publish Date : 03/10/2017 13:22
Like the previous years, Organization for Defending Victims of Violence (ODVV) is participating in the current session of the Human Rights Council aiming to take a part in promoting the culture of peace non-violence and protecting human rights both Nationally and internationally.
In this regard, our organization is holding "Nowruz Exhibition" taking place on March 9 and 10th in which we are representing the veteran Davoud Ameri's collective photography of "Opening a Window to Iran", and celebrating Nowruz, with the hope to spread the message of peace. We also take this opportunity to introduce the work of ODVV and other Iranian NGOs in this event.
ODVV's second exhibition, "Art for Peace" too, is taking place at the United Nations Office at Geneva, on March 7-17th 2017. It is an outstanding work of 30 Iranian artists. Mr. Siavash Rahpeik, the director of ODVV describes this event as: "a small example of the sea creativity, concern and commitment of Iranian artists, who with awareness and compassion create pieces of art for the establishment of peace and avoidance of violence." This exhibition is being held with the collaboration of three other organizations: Art for Peace, Iranian Artists Forum and Prevention Association of Social Harms.
Furthermore, written and oral statements prepared to be read on the related Items of the Council; meetings with Special Rapporteurs of various areas sharing our newest findings, activities and our concerns with them; and the distribution of our analytical and annual reports, are among other activities of ODVV at this 34th session of the Human Rights Council.