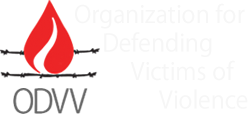 Human Rights Activists Condemn the Tehran and London Terror Attacks
News ID : #1672
Publish Date : 06/24/2017 15:10
Took Place on the Sidelines of the 35th Session of the HRC: Human Rights Activists Condemn the Tehran and London Terror Attacks
On the initiative of the ODVV Geneva Representative Office, and in condemnation of the terror groups' attacks in Tehran and London and also the continuation of Saudi Arabia's aggression against the innocent people of Yemen, a protest was held on 15 June in front of the UN Headquarters in Geneva.
The demonstration took place at the same time as the 35th Session of the Human Rights Council and holding placards and shouting slogans, condemned the recent terror attacks. In this demonstration, human rights activists gave short separate speeches and called upon the international community and human rights bodies to make efforts to put an end to these inhuman actions.
In their speeches these activists condemned the Tehran and London terror attacks and also the Saudi aggression in Yemen, and declared their support for the people of Yemen.