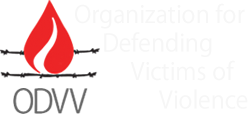 Workshop on Training of Prevention of Verbal Abuse Trainers
News ID : #2117
Publish Date : 12/03/2017 16:07
The Workshop on Training of Prevention of Verbal Abuse Trainers was held on Saturday 2 December with the cooperation of the ODVV and the Popular Preventions and Social Participations General Office of the Judiciary.
According to this report, the determination of the definition for violence, World Health Organization recommendations for the prevention of social damages, theoretic methods for prevention of violence based on psychological approaches, determination of the boundaries of sickness in the victims and perpetrators of violence with anger based on lack of skills and techniques of prevention to reduce damages that are resulted from anger, were some of the subjects that were discussed in this one-day workshop.
Seyed Ahmadreza Salamati, the director of ODVV Rehabilitation Department, Ali Asghar Refahi, judicial attaché and director general of Popular Prevention and Civil Participation General Office of the Judiciary and Ali Mohammad Yeganeh, cultural director general of the Social and Crime Prevention Deputy of the Judiciary made opening speeches in this technical workshop.