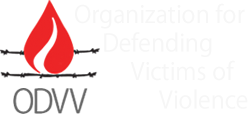 It Took Place with the Efforts of the ODVV: Iranian NGOs Art-Culture Tent Put Up in Geneva
News ID : #598
Publish Date : 03/14/2016 12:48
With the efforts of the ODVV (in Special Consultative Status to ECOSOC since 1988), on the sidelines of the 31st Session of the Human Rights Council, Iranian NGOs put up an art-culture tent and the Persian Haft Ceen (traditional Persian New Year spread), in Geneva, Switzerland.
In this tent which was put up for three days in the Nations Square in Geneva, in front of the European headquarters of the United Nations, and one of the main and busy thoroughfares of the city (Rive) slogans that read "Rejection of Violence and Extremism", "Happy Spring and the Persian Nowruz and the International Day of Happiness (which is on the same day as the Nowruz) were put up and a flute player who is a veteran (Janbaz) of the Iran-Iraq War played his instrument, and an artist performed the "Stop War" theatre.
Also the representatives of Iranian NGOs gave explanations of the Haft Ceen spread and the Nowruz festivities, and gave out traditional Iranian cookies, and wished the visitors a Happy Nowruz.