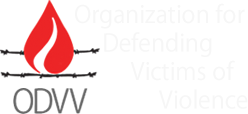 ODVV Holds a Sitting in Support of Victims of Torture
News ID : #1686
Publish Date : 07/03/2017 18:51
The technical sitting in support of victims of torture was held on the occasion of the International Day in Support of Victims of Torture on 26 June at the conference hall of the ODVV and the presence of psychologists and psychotherapists.
According to the ODVV public relations in this technical sitting in which psychologists, psychiatrists, doctors, counsellors and social workers were present, Dr. Mir Saeed Jaafari, lectured on interview and rehabilitation techniques of torture victims.
The training of therapists for helping victims of torture to return to normal lives and support counselling were some of the important education headings of this technical sitting.
This university lecturer, Dr. Jaafari described the treatment of torture victims in three stages: special attention to the critical emotional situation of the torture victim, interviews and support and rehabilitation techniques for their return to normal and day to day life, were some of the important actions that should be taken in helping torture victims.
He said: "the re-enacting of the past, and stress on the present as a reality, can help in accepting the past's pain and return to present life of the victim."
The torture victim must learn to live in the present and distance him or herself from the painful past.
Dr. Jaafari talked about logical facing of the past and accepting the present as the two principles in the treatment of torture victims and continued: "For the treatment of torture victims the cognitive therapy, cognitive behaviour therapy, and psychoanalysis be used. Of course the best therapy is team therapy, meaning a therapy in which a social worker and psychiatrist are present as well as the psychotherapist."
Next the experiences of some therapists related to PTSD patients, whose ailment was caused by chronic fear of ISIS were discussed and analysed by the workshop lecturer.
At the end of the sitting, plans were set to hold regular technical sittings and workshops with the presence of torture victims.
It must be said that some of the therapists declared their readiness to treat patients free of charge.