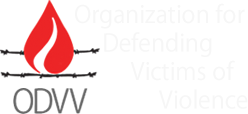 On the Occasion of the International Day of Innocent Children Victims of Aggression, Technical Sitting Held on Prevention, Treatment and Rehabilitation of Children Victims of Aggression
News ID : #316
Publish Date : 06/07/2015 15:53
The technical sitting on the prevention, treatment and rehabilitation of innocent children victims of aggression was held on Sunday 7 June in the conference hall of the ODVV. According to ODVV Public Relations, this sitting was held with the presence of experts and therapists active in the governmental and nongovernmental sectors.
 In this sitting, Dr. Parisa Jahanlou, child therapist, while teaching necessary training towards prevention of exploitation of children in different age groups, also explained the necessary methods to teach parents, teachers and individuals that are connected to children.
She explained that domestic violence was one of the important factors in children becoming victims of sexual abuse, and said: "the feeling of guild, worthlessness, self-blaming, nightmares and isolation in the family and society, as some of the main mental signs of victims of aggression and sexual abuse."
Stressing on the prioritization on the prevention of sexual exploitation and abuse of children, this therapist continued on to say: "the education and training bodies of the country must seriously and more determination work towards providing education to younger age groups, and according to international standards and recommendations children's education for the prevention of sexual abuse must begin from 3 to 5 years of age."
Stressing that on the subject of sexual abuse of children, prevention with education is more important than treatment, she spoke of the various treatment approaches for the therapy of this group of children, and added: "crisis prevention, the removal of signs such as fear and anger, building trust, allowing the pouring out of negative and hurtful emotions, giving assurance to children towards further support in the future, and the sue of treatment techniques based on outpouring of anxiety and emotion are some of the important measures that must be taken by the therapists."
According to this report, at the end of this technical sitting, the experts in attendance while talking about their own treatment experiences in treating victims of aggression and child abuse, exchanged their experiences and how the victims. It must be said that this sitting was held by the ODVV and on the occasion of the International Day of Innocent Victims of Aggression.