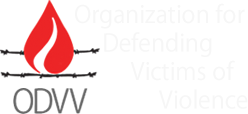 Mass Grave of Children Who Rejected Islamic State Found in Sinjar, Iraq
News ID : #563
Publish Date : 01/19/2016 13:06
Officials discovered another mass grave in Sinjar, Iraq, containing bodies of Yazidis, including children, who refused to join the Islamic State (ISIS/ISIL).
CNN toured the town with Mayor Mahama al-Shangali. He showed Nima Elbagir a new mass grave filled with at least 130 bodies of men, women, and children. The Islamic State wanted to take these people to Tal Afar, but they resisted. Elbagir reports:
But they refused to go. So they were killed, young and old alike.
Standing at the gravesite, I could still see tossed on the ground the cloth ties that bound their hands. The prayer beads they clutched until the end.
And I saw the empty bullet casings spit out by the guns fired by their killers.
Shangali also showed Elbagir where Yazidis who escaped the Islamic State currently reside. The terrorist group kidnapped over 600 children, but 200 escaped and found home in the camps.
Elbagir sat down with Ghazal Issa Omar and her two sons and their cousins:
Her 8-year-old son, Iman, has a shy gap-toothed smile.
The rifle he was given to carry hurt his arms, he says. But when he dropped it, the beatings would start.
Ghazal says the children were taken to the Badush prison in Mosul.
"They were taking them as shields. Raising them up high so that the airplanes could see them and wouldn't bomb them."
Iman's brother Assim is still only 10.
He tries to describe what it was like for them in the prison.
"When they took us to Mosul, to the Badush prison, they locked us in there," he says. "They treated us violently. I've never been beaten like this before. It was like dying."
On August 3 2014, Islamic State jihadists overran and captured the town of Sinjar, in northern Iraq's Nineveh province, sending tens of thousands of Yazidis fleeing before them to the supposed safety of Mount Sinjar. Instead they found themselves under siege, and for the next few days were sustained only by aid packages dropped by allied forces.
The Islamic State targeted Yazidis as they spread their caliphate across northern Iraq. The terrorist group considers the Yazidis, a religious minority, devil worshippers. As militants stormed through the areas, they demanded the Yazidis convert to Islam or die. Iraq's Human Rights Minister Mohammed Shia al-Sudani has claimed the militants buried over 500 Yazidis alive in Sinjar.
Kurdish forces managed to retake the town in November 2015. The liberators found one grave filled with 78 elderly women and another with at least 50 people.
"Everyone who was missing a family member was hoping that they were still out there, that they are still alive and maybe they'll come back," said resident Nawaf Ashur. "But now with the news of each grave found, we know not all of them will come back. Some of them are never coming back."
Resistance fighters have discovered numerous mass graves as they drive out the Islamic State in Syria and Iraq. In December, the Syrian Observatory for Human Rights reported a mass grave of more than 230 bodies discovered in eastern Syria. Kurdish fighters "discovered nine mass graves" in the Yazidi village of Hardan, Iraq in late December. Iraqi authorities discovered over 148 bodies around the town of Hit in late October, while a mass grave with 150 bodies was discovered near the city of Ramidi.
www.breitbart.com